If you have a UK pension, you could use it to purchase land or property abroad
An expert view from Richard Plews

of Life Time Independent - a highly respected company that acts as an independent financial adviser and specialises in guidance on this potentially profitable option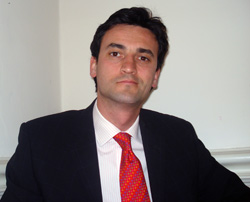 It often comes as a surprise when people hear how easily they could become owners of a property abroad – and, to give just one example, when it could be in a sunnier clime such as the Mediterranean. What's more, it could be an attractive investment. How's it done? Well, overseas commercial property and land is a permitted investment for certain types of pension known as a Self Invested Personal Pension, or SIPP for short.

This is a UK-based personal pension which provides much greater investment flexibility than a conventional pension plan, but retains all the tax advantages associated with them. Any type of pension can be transferred into a SIPP. For instance, many people have several frozen pensions from previous employment or businesses and/or personal pensions that they can transfer.
This then offers many attractive facilities, including the fact that a SIPP is allowed to borrow up to 50% of its net assets. So if a SIPP has total assets of £100,000, it can borrow up to £50,000. Hence, it could buy commercial property or land of up to £150,000. And if that property or land is overseas, the assets grow free of UK tax as assets within a SIPP will always grow free of income and capital gains tax.

Why invest in property or land? Well, consider the facts. The last decade has seen an over-reliance by fund managers on UK and global equities within pension funds. These have tended to yield poor returns since 2001, and the effects of current global meltdown have been devastating as we all know to our cost.

Property and land are very different from 'paper' assets. They have a physical and tangible existence, and while values might rise or fall they are hardly likely to disappear overnight. In fact, it's commonly acknowledged that for generations land has underpinned the wealth of many individuals, government bodies and corporate organisations.

In itself, a SIPP is a very simple structure. It acts as a wrapper for your investments and gives you the freedom to make your own investment choices. Having said that, professional advice is highly recommended when taking this step.

Richard Plews

Director
Life Time Independent
A free review of how you might benefit
As a company specialising in this area, Cretan Life offers an initial review completely free of charge for potential investors to assess whether their existing pension plans may be transferred into a SIPP. If you'd like to explore the possibilities further you can ring 0044 161 439 1788 or 0030 28210 50355 or email info@cretanlife.co.uk.
Life Time Independent is authorised and regulated by the Financial Services Authority.